Are you struggling to reach your marketing objectives and get the business results you want and need from your people?
Does it sometimes seem that the more people you have working for you, the more you have to do yourself?
Is every change you make resisted?
Are you having trouble eliminating the urgent so you can work on what's really important – like reaching your marketing objectives?
Do you find yourself so caught up in today's challenges that you can't focus on what's important?
Do you have so much to do already that you just don't have time to train your people or develop good systems and processes?
Are you ready to move beyond management to leadership, and to fulfil your potential, as well as that of your team and your organisation?
Have you discovered that running your business isn't quite as easy as it sounded when you first started out?
Do you struggle to keep your team focused on the main game and YOUR goals?
Do others understand and embrace your vision? Or are they just resisting it?
Are you struggling to attract enough clients or customers to support your business growth and reach your marketing objectives?
Are you too busy with day-to-day issues to fine tune your marketing program to match your marketing objectives, let alone embrace and capitalise on new online marketing strategies?
Well, you're not alone  …  and you've come to the right place!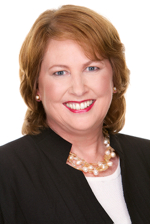 Hi, I'm Kerrie Mullins-Gunst, Principal of KMG Consulting. And yes, there are proven, effective ways you can lead your people, and your business, to exceptional results.
When you use them, you'll enthuse people, inspire change and succeed as a leader and as a business person with a lot less struggle and effort. Your team will embrace your marketing objectives and vision for business growth. Your ideal clients and customers will find you without you constantly needing to pursue them.
Since 1993 I've worked with people just like you to help them identify and implement the most effective business marketing objectives and leadership development strategies so their business grows.
And I'd love to show you how to get great results out of all the people you lead.
So here's what you should do next…
First, collect your copy of my free Leadership Resources Pack – waiting for you right now, with my compliments.
Second, have a look through the range of Services offered by KMG Consulting to see just some of the different ways we can help you develop a successful business strategy, reach your marketing objectives and grow your business by developing leadership in your people.