KMG Consulting provides professional group facilitation services for your strategic planning and review meetings, conferences and workshops or consultations programs.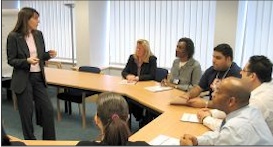 Resourceful, persistent in achieving results, experienced and well qualified academically, Kerrie Mullins-Gunst works with you personally to ensure you achieve the results you require.
Click here for more details about Kerrie's background.
Group facilitation services
We offer effective and professional group facilitation services for various types of situations including board meetings, department planning or crisis team reviews, strategic planning retreats, and advisory or stakeholder consultations as well as conference facilitation, meeting facilitation, workshop facilitation and general group facilitation services. We employ a range of different facilitation tools, including Open Space Technologies, selecting the most appropriate for your particular purpose, to ensure our facilitations services meet all your requirements.
Group Facilitation Services Enquiry Form
Why use an external facilitator?
Download our Free Fact Sheet Why use a facilitator? It details all the reasons why independent external facilitation services will add value to your strategic planning, business planning, incident review and other critical meetings and lists 35 different types of events for which you should consider using expert group facilitation services such as ours.