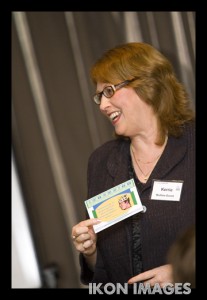 One of Australia's leading female business speakers, Kerrie Mullins-Gunst is an inspiring, entertaining and informative presenter. Her presentations fit into the online marketing, leadership and motivation categories of your event's program.
With more than 20 years experience in business, communication and science, Kerrie is sought for presentations by many because of her strategic insight and exceptional ability to communicate with a wide range of audiences.
Kerrie's friendly approachable style has encouraged and inspired audiences ranging from corporate executives and employees to women's groups, professional and industry associations and business owners. She has presented across Australia, New Zealand, England, Canada, the USA and Japan.
Kerrie's Most Requested Presentations
In addition to customised strategic planning and workshop facilitation, some of Kerrie's most requested presentations include:
The MAGIC of Leadership – How to lead so people will want to follow you
Seven Things You Can Start Doing Right Now to Be a Better Leader
Everyone Needs a Mentor
Your Blueprint for Success
Let's Get Lucky!– How to spot the opportunities that will guarantee your success
Opportunities Online for Your Business
Marketing in the Modern Era
Kerrie balances some solid messages with a light approach – ideal for conference keynote presentations, more detailed breakout workshops or to provoke discussion at your business meetings.
Different Formats for Presentations
Each of Kerrie's presentations is tailored specifically to your audience and the results you want to achieve, and can be presented as a one hour keynote speech or workshop, a half day or full day seminar or as a multi-day power program.
You can select from a number of different types or styles of presentation including:
Keynote presentations designed to professionally enhance your conference or meeting theme
Keynote presentation plus follow-up workshop combination
Half-day or full-day workshops or seminars designed to fully involve participants and empower your organisation by increasing participants' understanding of the topic and capacity to work together on related projects. More seminars which can be customised for your organisation are described here.
Power Partner Programs consisting of a series of presentations and reinforcing activities spread over a period of 6 to 12 months or more.
Reinforcement
Ask us about our special reinforcement packages which may include individual audio CDs, special workbooks, access to our online members-only resource area and customised follow-up support programs, for all participants.
Facilitation
Kerrie also offers consulting, strategic planning and professional facilitation services (including Open Space Technologies) for your meetings for groups, boards, departments or crisis team, strategic planning retreats and stakeholder advisory groups.
Outcomes
Use Kerrie for presentations that:
motivate your people to greater vision, commitment and contribution
develop leadership across your organisation, from the mailroom to the boardroom
challenge participants to distinguish between their management and leadership roles, and
expand thinking and open up critical issues for discussion.
With a special interest in women's roles in business and leadership, Kerrie is committed to customising her message for your situation and bringing out the very best in your people and organisation through her presentations.
Combining experience and expertise with a talent for storytelling and a touch of magic, Kerrie Mullins-Gunst is an ideal choice when you need energising, fun-filled and participative presentations.